Blog Home
Pet Halloween Costume Ideas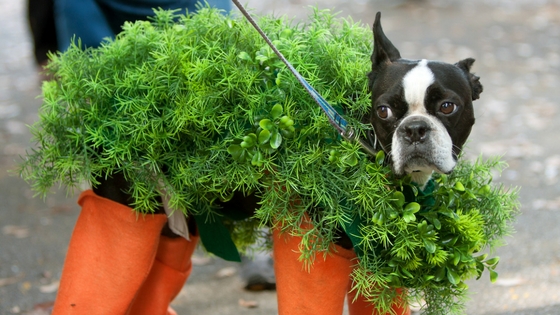 Marketplace at Fells Point is pleased to be a pet-friendly apartment community here in Baltimore, MD. Today on the blog we want to celebrate this — and the upcoming holiday! Read on for some great pet Halloween costume ideas you can try this year.
This costume is super simple, smart, and sweet! Throw it back to your childhood this Halloween, by cuddling up with your favorite life-size beanie baby. Just fold up some cardboard, cut out a heart shape, and paste some colored paper cutouts to form the classic tag. Tie it to your pet's collar or tie a makeshift collar around their neck to secure it.
Another clever pet costume, this one can be made with an old sweater, holiday garland, and a plastic plant. With some cutting, crafting, and minimal sewing, you can put it together with little to no time and effort.
Red Riding Hood and the Big Bad Wolf
You don't even need a person for this couple's costume. Whether you or a little one dress up as Red Riding Hood, your dog is the perfect companion for this look. All you'll need is an old T-shirt (the person who did this idea used a purple color scheme), some old glasses with a glasses rope, and a shower cap to make this costume.
This is a cute group costume you can put together easily, especially if you happen to have clothes that might fit the other Scooby Doo characters. (And if you don't, you can buy them online or at a nearby thrift shop with little hassle.) Make the Mystery Machine out of cardboard, paint, printouts of the logo and designs, glue, and construction paper.
What are your favorite ways to dress up your pet for Halloween? Be sure to only do so if your pet is ok with it! We hope you have a fun Halloween this year.